Master FX Unveils the Prodigy Pro High Performance Fog Generator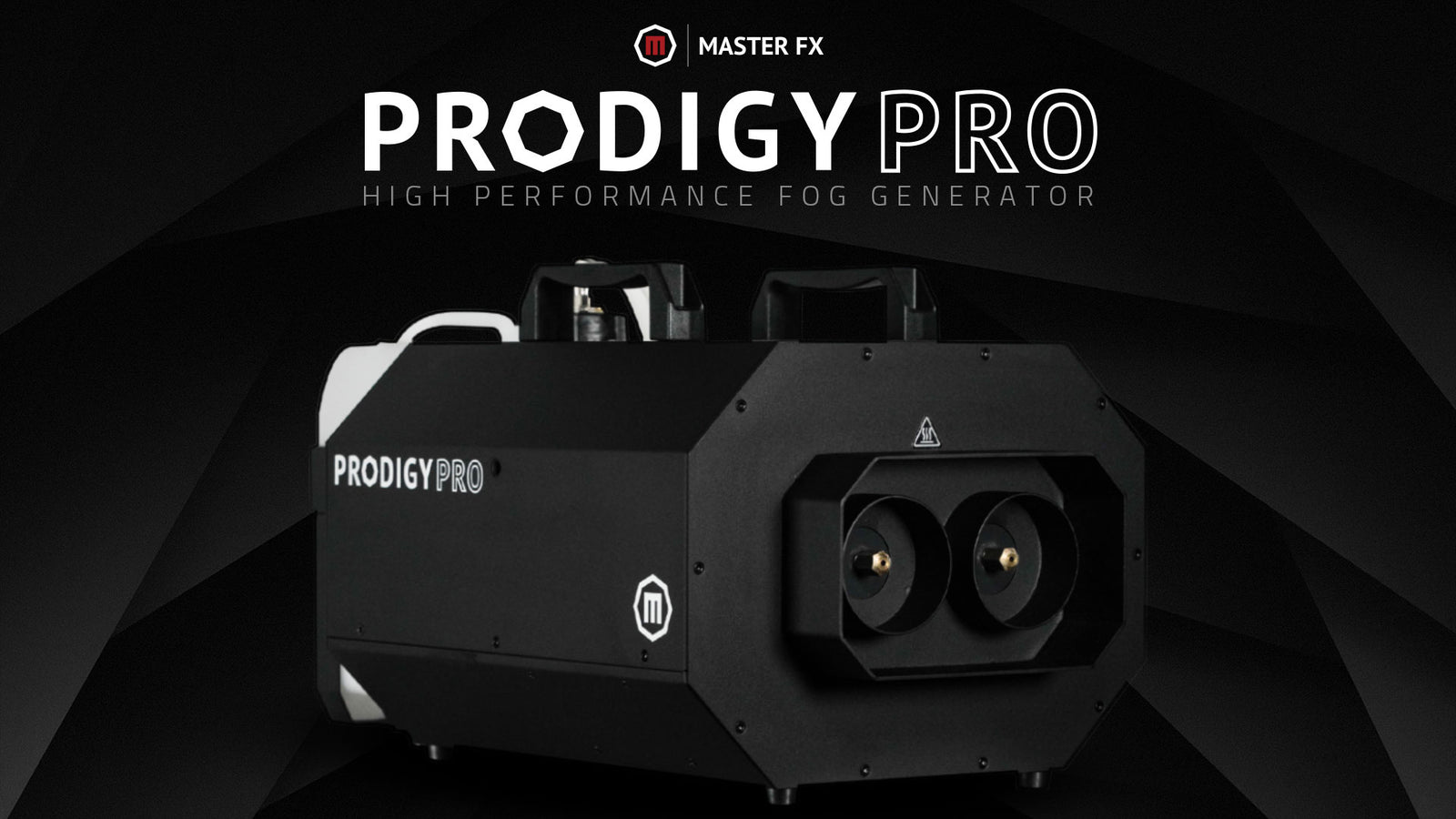 Master FX, the leading innovator in special effects equipment, is thrilled to announce the latest addition to its highly acclaimed Prodigy series; the Prodigy Pro High Performance Fog Generator. This cutting-edge fog machine promises to revolutionize the industry with its advanced features and unparalleled performance.
The 2017 launch of the Prodigy and Prodigy+ marked Master FX's inaugural venture in manufacturing special FX equipment. Now, the company sets a new industry benchmark with the Prodigy Pro, boasting remarkable advancements and innovative technologies that redefine what's possible in fog.
Key Features:
Dual Advanced Heating Cores: The Prodigy Pro is equipped with not one, but two advanced heating cores. The dual-core system ensures an exceptionally high fog output that surpasses anything seen before, providing users with a mesmerizing fog experience. The ability to fog a football field in minutes is no longer fiction; its reality.

Intuitive Touch Screen Interface: The Prodigy Pro features a dust and moisture-resistant touch screen with an intuitive operation system, making it a breeze to operate. For the first time ever, customers can select their preferred fog fluid directly on the screen. The machine will automatically adjust the temperature at which it vaporizes the fluid, ensuring optimal fog production without residual moisture.

Independent Output Control: Users can manage both outputs separately, opening up new possibilities for ducting and directing fog with precision. This feature provides an unprecedented level of control and flexibility.

Manic Mode and Infinity Mode: The Prodigy Pro features a revolutionary operation mode aptly named "Manic Mode" that generates a fog output far beyond any other machine on the market. Additionally, "Infinity Mode" produces a perpetual high-volume fog, ensuring consistent atmospheric effects for any occasion.

Dual Solenoids: The Prodigy Pro is equipped with dual solenoids that retract any unused fluid from the heater, effectively extending the machine's lifespan by keeping the heater clean of residual fluid.

Seamless Integration: The Prodigy Pro seamlessly integrates with Master FX's existing and future line of equipment and accessories, enhancing the overall atmospheric experience.
Advanced Safety Features: The 2000W Prodigy Pro includes protective voltage detection and low fluid sensors, ensuring safe and reliable operation. To underline the confidence in its product, Master FX offers an astonishing 10-year warranty.

To get a firsthand look at the Prodigy Pro Professional Fog Generator and experience its groundbreaking capabilities, visit Master FX's showcases at the upcoming IAAPA show in Orlando and LDI in Las Vegas.

Master FX is dedicated to delivering unmatched innovation and quality to professionals in the special effects industry. The Prodigy Pro is the culmination of years of research and development, setting a new standard for fog generation technology.

Don't miss your chance to be part of this game-changing advancement. Stay tuned for more updates, and be ready to elevate your atmosphere with the Prodigy Pro.

For more information, contact us at hello@masterfx.com, or give us a call at 877-578-6577
---